Double room
Comfort Tradition
Double room
Comfort Modern
HALF BOARD PLUS
As part of the LukasMayr "HALF BOARD PLUS" luxury board and lodging package, we serve our guests a wide variety of wholesome and tasty dishes throughout the day.
Hot and cold breakfast buffet
Coffee and cake every afternoon
3-course evening meal
with various starters, soups, main courses and a vegetarian option from the buffet
Free use of the hotel spa area, including the sauna and steam bath, every afternoon.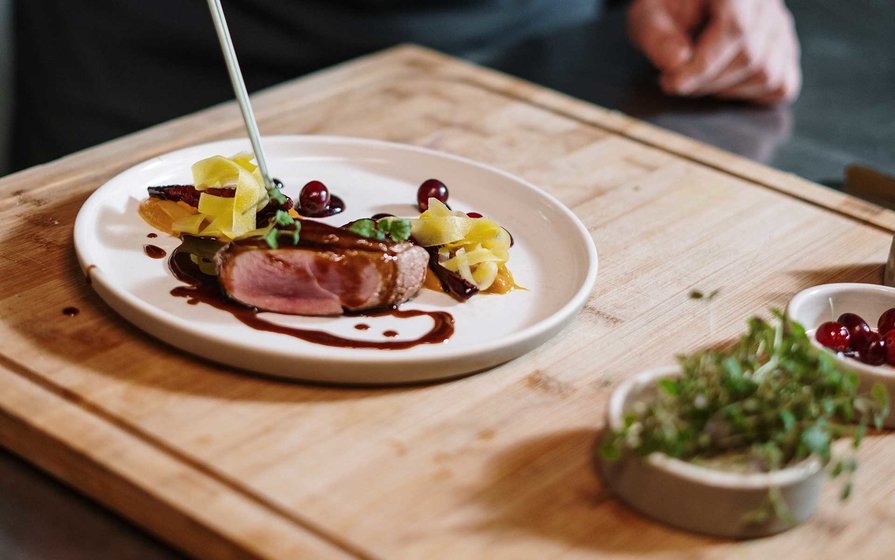 Price information
Prices are per person, per night, and include the "HALF BOARD PLUS" option.
€ 10 discount per person, per day, for room & breakfast.
€ 1.50 local tax per adult, per night.
€ 15 fee for pets, per day. (Pets are not allowed in the restaurant.)
Minimum stay: 3 nights, excluding:
from 29. 01. – 05. 03. At least 7 nights, and arriving on a Saturday
from 05. 03. – 30.04. At least 5 nights
Check-in: from 14:00
Check-out: by 10:00
"Tradition" double or single room
Double room with shower or bath, WC, TV; 1 additional bed possible in a double room
"Comfort Tradition" double room
Double room with lounge area, balcony, bath or shower, WC, TV; 2 additional beds possible in the lounge area
"Comfort Modern" double room
Recently renovated double room with lounge area, balcony, bath or shower, WC, TV; 2 additional beds possible (in the lounge area)
Double room for single use
Double room price + 50% surcharge
Reductions for children using additional beds
0 - 5.9 years: free
6 - 10.9 years: -50%
11+ years: -30%
Cancellation conditions
You can cancel free of charge up to 6 weeks prior to your planned arrival date
Up to 4 weeks before arrival: 50% cancellation fee
Up to 2 weeks before arrival: 70 % cancellation fee
If you cancel after this, 100% of the price of the services booked will be billed!
In the event of late arrival or early departure, we must invoice the total amount of the services booked.
Deposit
At the time of booking, we ask for a deposit of 30% of the total amount to be paid. Please use these bank account details:
IBAN: AT65 2040 4000 4252 9313
BIC: SBGSAT2SXXX
Offer dates 7=6
GET A 7TH DAY FREE
07.05. – 25.06.2023
01.10. – 05.11.2023
09.12. – 16.12.2023
07.01. – 27.01.2024
16.03. – 23.03.2024
Only valid for Saturday arrivals!